Digital Experience
24. July 2023 By Ingo Gregus
How insurance providers can get more out of their technical platforms
In a world where your customers are constantly connected and have access to a wealth of information and options, it is more important than ever to choose the right technology platforms to optimise interactions. A targeted investment in CRM, marketing automation, content management systems (CMS), specialised personalisation platforms and customer data platforms (CDP) will help to increase your efficiency and boost sales. But this is easier said than done.
Using a CRM (customer relationship management) system to gain 360-degree view
Your CRM system is a powerful tool that helps you as an insurance provider to improve and optimise your relationships with your customers. This also goes for sales and marketing. A good CRM system provides a 360-degree view, including contact information and history, preferences and behaviour. It also allows interactions to be tracked across different channels such as e-mail, social media or phone. Salesforce, Microsoft, SAP, BSI and Adobe are the major players fighting for this attractive market.
Marketing automation to create automated customer journeys
Marketing automation is closely linked to CRM. It revolves around automating your sales and service processes to increase customer loyalty. A marketing automation platform allows you to send personalised e-mails, SMS messages and notifications based on their behaviour and interests. The focus is on mapping the digital customer journey, which is done by the individual platform providers – with varying degrees of convenience. Even if it seems trivial at first, seek out support and get yourself up to speed. It will save you a lot of time and hassle.
Content management systems as a content hub in the omnichannel journey
Your content management system (CMS) makes it easy to manage content and deliver personalised content to your customers on your website, in e-mail marketing or on other channels. Using CMS enables you to deliver personalised content to increase customer engagement and improve customer retention. While this is nothing new in itself, modern CMSs work seamlessly with your CRM, your customer data platform or even marketing automation.
Customer data platforms - your customers heartbeat
A customer data platform (CDP) is a data-oriented platform that integrates and consolidates customer data from different sources. It is a cacophony of interfaces – but in a good way. A CDP enables you to centralise and analyse user data to develop personalised marketing and sales strategies and improve customer engagement. Until recently, the systems hardly played a role in the insurance industry. However, the vast number of interfaces required for the wide range of data sources push traditional CRM systems to their limits. The providers' CDPs are modern consolidation platforms that are part of a modern and customer-centric infrastructure. They are a must-have from our point of view.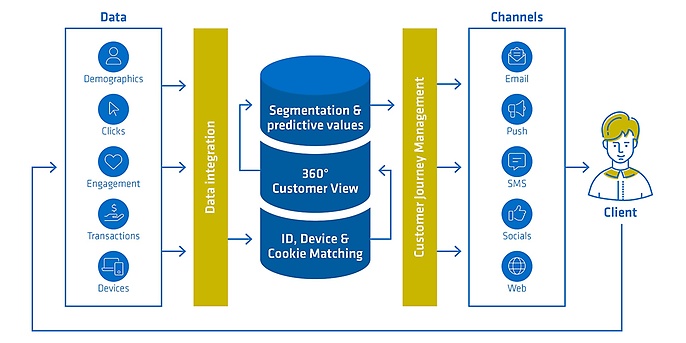 Special personalisation platforms to improve the customer experience
The customer experience plays a critical role in the insurance industry in particular, seeing as products are not physical ones and are often unattractive. Hyper-personalised customer targeting significantly improves this experience. The communication and interaction suddenly becomes personal, making it much more relevant for customers. This drastically increases the conversion rate for your sales and service processes. This is where marketing automation systems reach their natural limits.
One of the most important hyper-personalisation platforms is the Personal Business Machine (PBM), which smoothly interacts with and complements the platforms mentioned above – and not only in digital channels, but also in letters, Amazon Alexa, video, audio, pictures, texts or animations. Studies show that companies that invest in personalisation are able to achieve a 300 per cent return on investment, meaning it is worthwhile to include these types of systems in the target vision from the outset and to boost the customer experience.
Using the technological target vision to create perfect interactions
But how do all these platforms work together? Who is responsible for the landing pages, for the e-mails, for the website itself, for the content and so on? Every provider will tell you their platform is suitable for almost everything, but that is not the solution. The solution is actually your personal target vision for the technological platforms.
Make sure your requirements are crystal clear, as your target vision will determine your technological setup in the future. We regularly help to evaluate the components based on their requirements so they can make a safe investment decision.
What needs to be considered here?
Data integration: The target vision should integrate and consolidate customer data from different sources to get a comprehensive understanding of your customers. Which data is stored where and how does it interact in the different systems?

Personalisation: The target vision should be able to deliver personalised content and marketing campaigns based on your customers' interests and behaviours. Define the core customer journeys based on your business cases to work out the requirements.

Automation: The platforms you use should enable interactions and processes to be automated in order to work more efficiently and save costs.

Analysis: The platforms must enable data to be structured and analysed in order to measure and improve personalised marketing and sales strategies.

Requirement catalogues: Create a catalogue of requirements from the various technical, procedural and specialist issues. This could well become a compendium. But these requirements what the various components need to meet. Please feel free to get in touch with us about a process model for creating target visions.
Just simply having technical platforms is not enough by itself
You have your target vision. All the components have their role and are linked. Your tech set-up is starting to get off the ground. Great. But you are still not seeing success? Your conversion rate is not increasing? Your customers are not hammering on your door?
A common reason for this is that since it is usually the IT department that manages the target vision (which is perfectly logical), the focus ends up being squarely on the pure technical processes. While this is a good thing, it is also not enough. And it would be a shame if the platforms were simply sat around gathering dust without making good use of their potential.
The key here is interdisciplinarity – working together. It is now up to the marketing and sales teams to join forces and bring the technology to life, which takes creativity and professionalism. While a lot of creativity and free spirit goes into brand campaigns, technology-based customer experiences unfortunately often degenerate into a 'sideline' in day-to-day business. Content is created and put on the platforms, but there is more to it than that. It is about providing a real customer experience using the same amount of energy you put into your brand campaign. Otherwise, the platforms will not be able to realise their potential. Doing this requires an understanding of how technology can be transformed into real customer experience. You need to change how you think about 'business cases' such as claims, benefits, up-selling and cross-selling – you need to be creative and think outside the box, just as you do with brand communication. You have to be customer-centric, smart and highly professional, as the technology itself does not change the fact that insurance providers need to have excellent communication. If anything, it needs to be even better, seeing as new customer journeys and channels have been added.
Perseverance and learning are the order of the day, so that the worlds grow together – as this is the only way to be successful in the long term.
Conclusion: no technology without creativity – no creativity without technology
Using technologies such as CDP, CRM, marketing automation and intelligent content management systems is an absolute necessity if you want to optimise customer interactions and increase your efficiency. There is no getting way around it. But it requires having a clear strategy and, above all, the same energy and creativity as brand campaigns.
Spoiler alert: the last post in our blog series will be all about attracting new customers and retaining existing ones. It sounds easy, but you might be in for a surprise!
You will find more exciting topics from the adesso world in our latest blog posts.
All blog posts in this series
Part 3 – How digitalisation can help insurance companies build and expand their brands