Industries
15. June 2023 By Stefan Rogge and Svenja Schröder
Sustainability regulations
How insurance providers can benefit from the Corporate Sustainability Reporting Directive (CSRD) and EU Taxonomy Regulation
Regulatory challenges can be a big driver of change for insurance companies. Regulations require a great deal of time and effort, but at the end of the day, how can companies generate added value from their hard work? In this blog post, we will explore how regulatory changes are not only an obligation, but can also be an opportunity for insurance companies to take a leading role in shaping a sustainable future. We will once again provide a clear summary of what is new and present possible implementation steps.
In recent years, sustainability has become a key issue for companies. More and more insurance companies are also realising that sustainability is not only good for the environment, but can also be beneficial for their business. One of the most important drivers of this development is the increasing amount of regulation by state and international institutions. The goal of regulations is to require companies to bring their activities in line with the United Nations Sustainable Development Goals (SDGs). In an insurance company, this affects all areas of the insurance business, from investment strategy to underwriting. Insurance companies must ensure that their investments are channelled into sustainable projects and that their products and services help to promote sustainability. But what exactly are these new regulations?
Corporate Sustainability Reporting Directive (CSRD)
The CSRD was introduced by the European Commission at the beginning of 2023 and is intended to expand the existing set of rules for corporate reporting on sustainability. These requirements are expected to be implemented from the 2024 reporting year (for listed companies) and from 2025 (for other large companies). The CSRD requires public interest entities to provide additional sustainability information in their annual reports. This includes information on the impact of the business on the environment and society, as well as the measures the company is taking to promote sustainability.
EU Taxonomy Regulation
The EU Taxonomy Regulation sets criteria for investments to be considered environmentally sustainable. It aims to help promote investment in businesses and projects that support the transition to a sustainable economy. The regulation provides a framework of criteria according to which investments can be considered sustainable. Insurance companies must meet these criteria in order to be considered sustainable and to be able to promote their products and services accordingly. The criteria are the EU's six environmental objects. The company can earn a kind of 'seal' by having a significant positive impact on at least one of the environmental objectives while not significantly compromising any of the other objectives. In addition, the minimum protection for occupational safety and human rights must be met.
Disclosure Regulation
The Disclosure Regulation obliges companies to disclose information on sustainability performance in order to offer investors and customers greater transparency and make it easier for them to compare companies. This relates in particular to the disclosure of information on climate risks and opportunities, the impact of climate risks on the company and the company's sustainability goals and strategies. Customers' requirements and expectations have changed drastically. The Disclosure Regulation allows them to select products and services according to their individual needs.
All in all, the Disclosure Regulation, the Taxonomy Regulation and the CSRD are closely interlinked and together form a comprehensive set of rules to promote sustainability and transparency in companies.
Sustainability reports – creating a uniform database and (partially) automating evaluation processes
As an IT service provider, it is important to us to help our clients meet the requirements set out in regulations and to ultimately generate added value wherever they can. We are less concerned with analysing regulatory requirements and how they are implemented in their corporate strategies and more focused on supporting the necessary processes with the help of selected IT solutions.
It is easy to imagine that the reporting obligation according to the regulatory requirements of the CRSD and Taxonomy Regulation requires a vast quantity of data from a huge range of difference sources to be consolidated and evaluated. Currently, this required information is often extracted from the data sources in a manual process and compiled in Excel tables. The next step is to extract the necessary findings for the sustainability reports from the information collected.
This all sounds like a lot of work, money and time because it is. However, the process can be simplified and at least partially automated with the help of a viable IT solution.
A uniform database that can be evaluated forms the basis for implementation. This database can then in turn be used as the basis for further evaluation processes.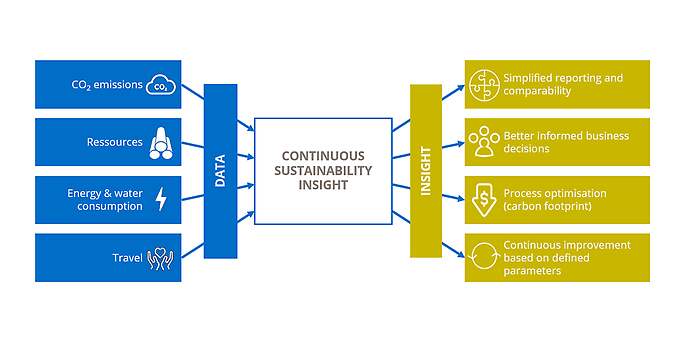 This data sink is centrally filled with information such as resource consumption and CO2 emission values, as well as evaluations of company employee travel information, for instance. The data model is given a standardised specification by the data platform, so that a single point of truth is created for the evaluation of the sustainability targets.
Possible IT solutions for implementing regulatory requirements
But as an insurance provider, does this mean that I now have to build a technology platform? It may make sense in individual cases to build on the data platforms or data lakes that are already established in the company and to also use these for evaluating the sustainability goals. However, established software providers such as SAP, Salesforce and Microsoft also offer suitable preconfigured solutions to build up this type of database.
The example of the Microsoft Cloud for Sustainability shows that this type of data platform is easy to build and can be done in small iterations.
The first step sees the most important data sources for the evaluation determined and connected to the system via preconfigured connectors. The platform providers often already have a variety of connectors that come as out-of-the-box solutions, thus ensuring it is quick and easy to connect simple data sources such as Excel and more complex data sources such as ERP systems.

The data is transferred to the platform's data model via mapping and is then available for evaluation.

The platform provides calculation bases for the calculation of scope 1, 2 and 3 emissions, which can be viewed and adapted at any time so as to meet the documentation requirements, and presents the calculation results clearly on a dashboard.

Based on the results, reports can be generated that show the CO2 emissions over time and the influence of savings made in the process. In addition, the results can be used to meet the regulatory requirements of a sustainability report.
The combination of an easy-to-use tool and a central database thus enables a partially automated implementation of the process and saves time-consuming manual process steps.
Generating added value with corporate data and insights on sustainability
The increasing number of regulations with regards to sustainability poses new challenges for insurance companies. However, it also offers an opportunity to take a leading role in shaping a sustainable future.
Using an IT solution not only makes collecting and evaluating data easier, but also offers the opportunity to generate added value from regulatory requirements. Insurance companies can communicate their sustainability performance transparently, promote sustainable investments and offer their customers a choice of products and services that meet their individual sustainability preferences.
Insurance companies that consider this type of software solution at an early stage are therefore not only best placed to meet the new requirements, but they can also gain a real competitive advantage. There are also other advantages beyond the regulatory aspects, such as being easy to compare over time, progress being shown and potential fields being clarified.
You will find more exciting topics from the adesso world in our latest blog posts.