Digital Experience
18. November 2022 By Thomas Hahn
Field service management (FSM) for product-oriented organisations
Whether it was about a faulty dishwasher or a new Internet connection, each of us has probably already encountered the following sentence in a similar form: 'Please be available for our customer service between 7 am and 7 pm.' In the third year of Covid-19 and during the accompanying return to the office, this arrangement presents a challenge for many people – not to mention those who cannot or are not allowed to work from home.
Many service organisations use field service management (FSM) solutions in their after-sales service. Field service refers to work carried out on site in order to do things such as sell, install, repair or maintain equipment.
Did you know that 80 per cent of decision makers in companies that use field service management software state that their interaction with customers is critical to customer retention and customer loyalty and that they use this knowledge as an important part of their strategy?
Time for an assessment of the current situation: where does field service management stand today, and what opportunities are there in using it for product-oriented organisations?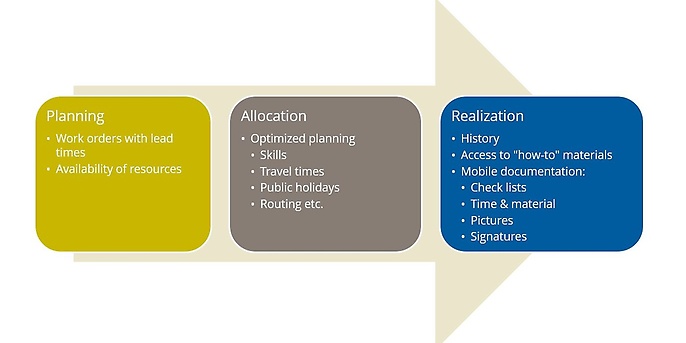 Status quo in terms of field service management
According to the Gartner Hype Cycle for Customer Service, this technology is in an emerging recovery phase on the 'path to enlightenment' (Figure 2). This means that the technological benefit that can be realised becomes apparent as a result of continuous further development. Expectations have adjusted to a realistic level and thus allow positive feedback.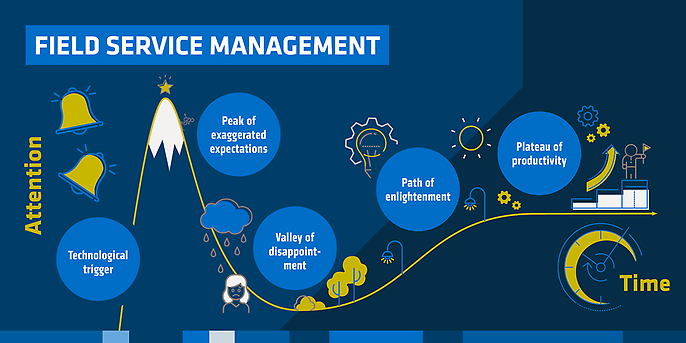 Field service management is ranging through many disruptive technologies – including machine learning/IoT/augmented reality and robotic process automation (RPA). These technologies can make it easier for people to do their work and also improve the quality of their work.
Many of the aforementioned disruptive technologies were classic hype topics just a few years ago. The progressive adaptation to these technologies shows how fast technological change is advancing. Meanwhile, the advancements only develop their added value by being seamlessly integrated into the end-to-end service process.
Artificial intelligence (AI), for example, offers great potential for the service sector in particular. From customer support to the planning and provision of services, to spare parts management, many use cases can be identified. Technology-driven service companies in particular use AI as a differentiating factor.
From product to service
Since 1997, Rolls-Royce has been offering aircraft engines as a service rather than a product. Almost all Trent engines are now delivered as part of a complete service package called TotalCare. The TotalCare fee includes repairs, maintenance and even the complete replacement of engines. This means that airlines do not have to make any upfront investments. In return, the agreement guarantees Rolls-Royce recurring annual revenue. This means that the engine manufacturer needs a lot of IoT sensors to collect data on the condition of the aircraft. Analysing this data enables the manufacturer to proactively maintain their rented equipment by predicting any failures, adapting performance to usage and ideally extending their life cycles.
The initial sale is an almost zero-sum game for many manufacturers in the plant and mechanical engineering sector. Service is the initial way to earn money. Field service management is of particular importance in this context – and namely from two perspectives:
Plant availability is often of critical importance and therefore has a decisive influence on customer experience and loyalty. Relevant KPIs in this regard include response times and the first-time fix (FTF) rate.

After-sales service is an increasingly important source of revenue for manufacturing companies, which must be secured and expanded.
Disruptors enter new markets
New players in the market are increasing the amount of competitive pressure in the service relationship between manufacturers and their clientele more and more. In addition to manufacturer-independent multi-service providers, new, powerful players whose business models are based on cloud services, big data and advanced analytics are entering the market with increasing frequency. In the sense of the platform economy, the targeted business areas are being taken over with such speed and brutality that any defensive reaction comes too late. The battle for data – the oil of the twenty-first century – is in full swing, and the fields are being staked out like it is the Wild West.
In order to keep hold of the reins, it is advisable to use digital services as a means to deal with new business models and process innovations. New approaches are needed for development, but so is an open mindset culture in the company. Thus, in addition to the appropriate methods for generating ideas, modern forms of work in cross-functional teams must also be taken into account.
The following questions can help to identify specific digitalisation potentials:
To what extent can the services offered be transposed to a digital future?

How can current products and services be optimised by means of connectivity and/or data exchange?

Which of the competition's business areas are threatened by the digital transformation?

How extensively is software used in core processes?

How does the digital customer experience differ from the competition's?
Field service management: where is the journey heading?
The Lebanese artist and poet Khalil Gibran once said: 'Progress lies not in enhancing what is, but in advancing toward what will be.' That is why customer service providers need to start thinking today about how technology will impact service operations in order to shape the service strategy of tomorrow.
This is why adesso addresses a company's strategic orientation at the beginning of a project before evaluating possible solutions or running a health check of the existing field service management solution.
(Field) service management is a key aspect in a long customer journey, which is why this range of topics should not be viewed monolithically, but rather through an overall perspective of the customers. There are many opportunities that need to be identified and prioritised – especially in after-sales service. A transformational process, which should be accompanied by change management, is initiated depending on the goals and technical and organisational circumstances.
The encouraging conclusion is that after ascending the path to enlightenment, comes the plateau of productivity. In this respect, now is the right time to put the current positioning of (field) service management to the test. This is because, on the one hand, the technology has proven itself, but at the same time, it has not yet been widely adapted as a mainstream tool. Especially in times of economic instability, a combination of digital and analogue (field) services ensures a continuous cash flow that maximises customer lifetime value.
Conclusion: this is how it works successfully in practice
Processes, resources and tools must be sensibly coordinated in order to successfully implement the field service management strategy. adesso provides support for this process and offers professional, methodological and technical expertise from a single source.
We set up the base camp for the ascent to the plateau of productivity at two different levels depending on your experience:
You do not have a field service management solution in place yet, but you see the potential of using digitalisation and mobilisation to optimise your field service?

In this case, the 'Discovery Tour' offers the right introduction. With this offering, we will work out a roadmap with you so you can reap the fruits of your labour along your ascent and always stay on course.

You already have a legacy field service management solution and would like an analysis of whether it is future-proof and still suits you?

In this case, adesso offers the 'Test Tour' and a health check. With this offering, we take stock of your situation together and derive possible recommendations for action.
adesso boasts successful cooperation in the field of field service management with the best-in-class providers Microsoft, Salesforce, SAP and ServiceNOW, among others. These partners have proven their capabilities in the field and are often present in our customers' IT landscapes. The package is rounded off by a specially developed methodology coupled with industry expertise.
We work together with our customers to develop a personalised approach. Feel free to contact us!
You can find more exciting topics from the adesso world in our blog articles published so far.