Industries
5. May 2022 By Ellen Szczepaniak and Matthias Kutzera
Post-EEG installations: Are they fit for the future and financially viable at the same time?
The Renewable Energy Sources Act – the early days
What is the Renewable Energies Act (EEG)?
The EEG was passed in March 2000 to augment and replace the Electricity Feed-In Act. The act had two goals: one was to meet all electricity demand in Germany using greenhouse gas-neutral energy sources by 2050, while the other stated that the expansion of renewables should be done in a stable, consistent manner that was both economically viable and grid-compatible. The subsidy provided under the EEG covered all plants that generate electricity from renewable energy installations. This was done by way of guaranteed payments to make the expansion of renewables more financially attractive.
In particular, domestic consumers have made the transition to become prosumers thanks to the subsidies available for operating an RE installation. Under the scheme, they would feed the electricity they did not consume themselves into the grid at a subsidised price.
RE installations that were brought online in 2000 are not eligible for EEG subsidies.
In the bar graph below, you can see how many installations will cease to receive subsidies under the EEG in the coming years: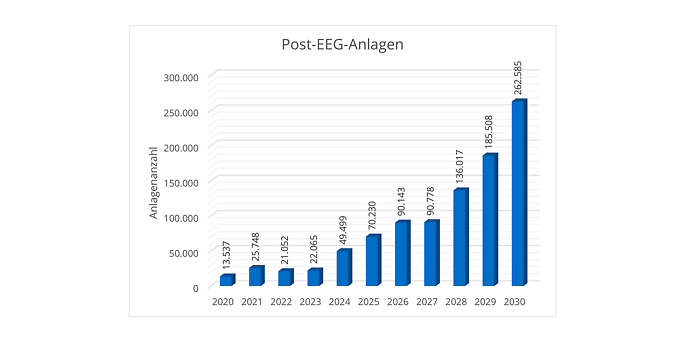 The end of EEG subsidies – now what?
Under the EEG, subsidies for renewable energy installations were established in 2020. As indicated above, they are no longer eligible for subsidies after 20 years in operation. A number of installation operators are now asking themselves what they need to do next and what they can do to ensure that their installations can still be run economically.
In the blog post below, we've provided a short list of ways they can achieve this goal.
1. Full feed-in to grid/feed-in tariff:
Companies who operate systems under 100 kilowatt peak (kWp) continue to receive payments for electricity fed into the grid from the grid operator. If an installation operator chooses this option, however, it is obliged to feed in all power generated by the plant. Moreover, this is a temporary solution since it expires at the end of 2027. For installations larger than 100 kWp, this method of selling power was phased out on 31 December 2021.
In addition, installation of a smart meter is mandatory for solar panel systems starting from 7 kWp.
Feed-in tariff: The feed-in tariff for electricity fed into the grid is worth X. In this case, however, it is based on the market value for solar power (average annual price that can be obtained by an average PV system on the electricity market). In 2021, this corresponded to approximately 9 cents per kilowatt hour (kWh), minus 0.4 ct/kWh as the flat fee imposed for sale of the power. See Netztransparenz.de (Germany only) for an overview of the annual values for the last five years. At the moment, there are no additional costs, such as for retrofitting an installation, until 2027.
2. Other direct selling:
In addition to the feed-in tariff, installations that are no longer eligible for the EEG subsidy have the option of selling the electricity they generate on the electricity market through third parties via a direct seller. In this case, organising the sale is the responsibility of the installation operators. In order to take part in direct selling, however, the installation may require certain upgrades. Any installation with an installed capacity of 7 kWp must be able to transmit measurement data to market partners every 15 minutes by means of a metering device. For installation operators, direct selling is already mandated if the installation is larger than 100 kWp. This approach to direct selling is currently primarily of interest for installations that sell all of the power they generate, installations larger than 100 kWp and state-of-the-art installations.
3. Own consumption:
If none of the above-mentioned options for continued operation is suitable, there is still the option of consuming the electricity produced internally. While no payments are received for the power, the electricity required to meet the operator's own demand is free. In that sense, the money saved on electricity could be considered as a payment of sorts. If surplus electricity is generated, there is the standard option of feeding it into the grid and being paid by the grid operator. Alternatively, it is also possible to create flexibility and store the surplus electricity, which, however, entails additional investment, for example, for retrofitting the installation or for procuring metering devices or power stores.
Post-EEG installations in a virtual power plant – is this a practical option?
While the options described above all have their appeal, have you perhaps heard in the news about virtual power plants as a further viable option?
We will now explain why post-EEG installations can work optimally in a virtual power plant.
Gain flexibility: Virtual power plants can react more flexibly by grouping several small installations together in order to respond more quickly to signals from the electricity market. Along with optimised grid utilisation, this also makes it possible to increase profits by running power plants at a higher capacity.

Reduce administrative costs: For installation operators, administrative costs are reduced by having the installation be part of a virtual power plant. Along with that, the virtual power plant operator can see to the technical requirements and upgrades to installations where this is necessary or if there are changes made to the legal framework. However, whether this option is available varies from contracting model to contracting model. (ICT box upgrade)

Optimise revenues: A virtual power plant can generate higher revenues for the installation than the aforementioned options for continued operation. If the post-EEG installation can be controlled, there are further opportunities to sell power in new markets. Installations that can be controlled within a virtual power plant can supply balancing energy, which in turn means higher revenues. The regulatory hurdles imposed by the balancing energy market can typically not be met by smaller, standalone installations. A virtual power plant, on the other hand, removes these obstacles.
Looking forward with an eye towards the increased number of post-EEG installations, there are real options for continued operation from today's perspective. However, every installation operator should look into these options early on. Doing so six months to a year before the subsidy expires is recommended.
You can read more about exciting blog posts from the energy industry in our latest utilities posts. You can find all other blog posts from the world of adesso here.