Industries
22. April 2022 By Dimitrios Archontakakis
What used to be a trend has long since become reality – managing inventory and creating value with Software as a Service
Cloud computing has become an essential part of the IT strategy for the majority of companies in Germany.
In the course of this progressive development, cloud solutions are becoming an essential instrument in the digitalisation strategy of financial service providers and insurance companies in particular.
In the past, insurance companies were rather reluctant to embrace cloud solutions. This attitude has radically changed in the meantime. After exploring the business/sales potential, the new opportunities look very promising.
Due to its features, cloud computing makes it possible to redefine the way the 'insurance business' works and how to implement these new approaches.
There's no alternative for making insurance companies future-proof and successful other than cloud technologies and the new cloud infrastructures associated with them.
Transitioning from the cloud to 'real' SaaS
Software as a Service (SaaS) and cloud-based infrastructure services in particular are the preferred means for meeting the challenges of digitalisation.
I'd like to show you the difference and the transition from the cloud to an SaaS landscape. There are three different variants on which system landscapes can be built.
A specific distinction is made here between:
Infrastructure as a Service (IaaS) - With IaaS, only hardware resources are offered.

Platform as a Service (PaaS) - With PaaS, technical frameworks (for example, ready-made middleware or databases) are made available.

Software as a Service (SaaS) - With SaaS, the provider is the one that originally offers access to use the software products/application programs, which are hosted on an infrastructure they operate.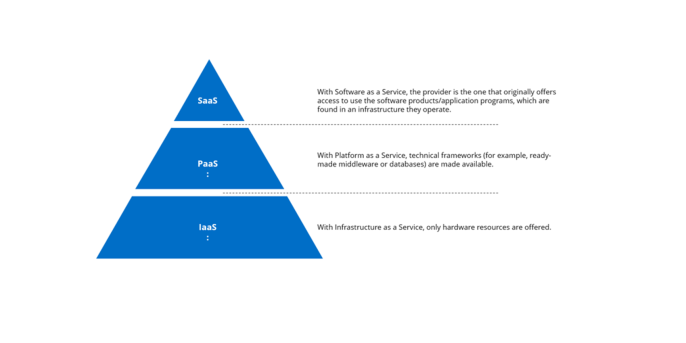 The road from 'on-premises' to SaaS!
If we shed a little light on this, we can see that with on-premises infrastructures, the company owns all the necessary components (specifically, hardware stacks and software stacks). The more responsibilities are given to an external provider, the more responsibility is transferred to the IaaS, PaaS or SaaS provider.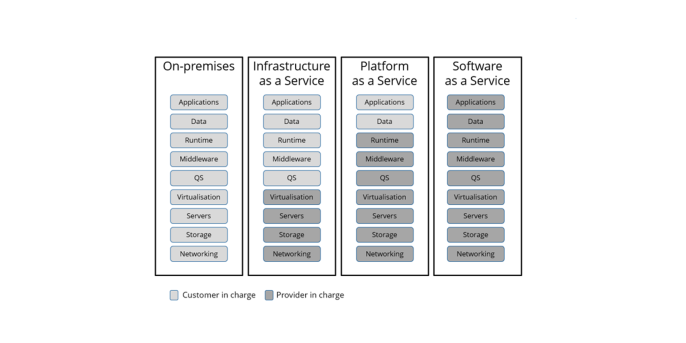 The benefits are plain to see
The goal is to use SaaS to operate a fully comprehensive and pre-configured application landscape – one that's not operated by the insurance company itself, but rather an external provider. The insurance company is thereby relieved of time-consuming and expensive tasks regarding maintenance and operation, which allows it to focus all of its attention on sales and expanding its core business.
Other critical points or tangible benefits include
Scalability
By using cloud technologies and container technologies, modern application landscapes are able to optimally adapt to their current and seasonal capacities regarding everyday business operations, for example, to their annual financial business statements. With Cloud/SaaS, operation is ensured by the service provider.

Security
The highest security requirements come as a standard due to SaaS/cloud providers establishing professional operation as a core criterion. Transparent security architecture and service level agreements

Cost efficiency
The IT sector's shift to the cloud results in cost optimisation potentials that lead to a reduction in overall costs.

Competition
A higher degree of flexibility makes it possible to react quickly to new market requirements and enables sales teams to achieve a fast time-to-market as a result.

Capacity for innovation
Modern architectures with a modular design and an additional focus on interfaces in order to be able to quickly connect new systems or integrate new applications. This accelerates the deployment of new state-of-the-art solutions while reducing the risk to the overall system.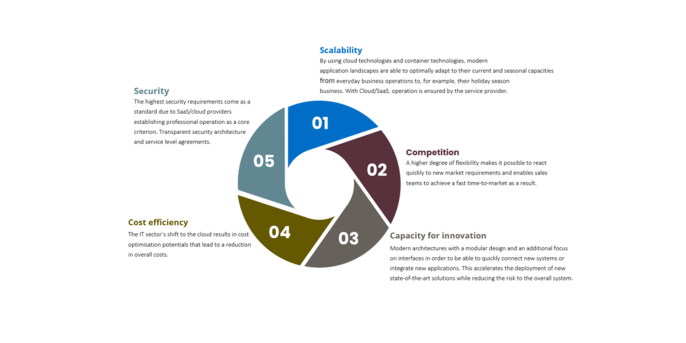 The potential is plain to see
There is no need to transfer everything from the insurance company to the provider all at once. This is the difference between a vision for the future and operational business, which must run smoothly and without interruption. Business processes, such as those found in a complex regulatory environment which can be standardised and suitably mapped using micro-services, can be a place to start. An SaaS solution must of course support the regulations of the BaFin (German Federal Financial Supervisory Authority – Bundesanstalt für Finanzdienstleistungsaufsicht) in respect to the VAIT (German Supervisory Requirements for IT in Insurance Undertakings – Versicherungsaufsichtliche Anforderungen an die IT). Claims processes regarding fraud detection/screening are also well suited to be mapped in an SaaS solution, and the interaction between insurance brokers and insurance companies, which is standardised by BiPRO, also has great potential to be mapped within the SaaS framework – to name just a few obvious examples.
adesso uses its SaaS Center of Competence to support companies that are transitioning to SaaS in developing a suitable roadmap for transforming/implementing their digitalisation strategy.
In my upcoming blog post, I'd like to discuss the technical differences between a system landscape in the cloud and one in SaaS. Furthermore, it goes without saying that operating models, release models and, last but not least, billing models play a significant role.
If you would like to learn more about exciting topics from the insurance context, then take a look at our blog posts from the insurance sector. You can find all articles from the adesso world here.
You can find more exciting topics from the adesso world in our previously published blog articles. Would you like to learn more about SaaS in the insurance context and about the competitive advantages of Software as a Service? Then take a look at our website.